Alex (GearedUp)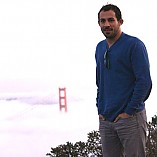 I am a:
32-year-old backpacker
Location
: San Antonio, TX
Occupation:
Program Manager, Entrepreneur
Website:
http://www.gearedupapp.com
Email:
gearedupmail@gmail.com
Affiliations: Previously employed with REI but now work for the Department of Defense and myself!
Activities
Hiking
Backpacking
Trail running

Orienteering
Kayaking

Vitals
| | |
| --- | --- |
| Height | 6feet |
| Weight | 190lbs |
| Boot/Shoe Size | 11.5 (US) |
Lover of all things outdoors but most fond of backpacking, hiking, camping and trail running.  Next in line would be freshwater kayaking, but just about anything that gets me outside is a go! I'd like to start climbing as its something I've always had an interest in. 
Dedicated entrepreneur looking to find a better way to improve ease of access to gear, knowledge and promote others the ability to get outside! DM me to link up! 
Gear Reviews (2)
Forum Posts
| | |
| --- | --- |
| Outdoor Retailer - Trailspace Representing! | November 14, 2018 |
| Congratulations, Zalman, Our MSR Winter Gear Winner | January 1, 2019 |
| Meet Phil: New England Hiker, Snowshoer, Reviewer of the Month | December 12, 2018 |
| Renting gear? | November 27, 2018 |
| Big Bend Outer Mountain Loop - Nov 2018 | September 20, 2018 |
| Startup Needing Your Input! | September 16, 2018 |