Steve Mullen @Gearmansteve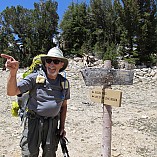 2,589 reviewer rep
17 forum posts
joined Jul 2, 2016


I am a:
73-year-old backpacker
Location
: Kenwood, CA
Occupation:
Outdoor gear tester
Website:
https://www.trailspace.com/people/gearmansteve
Affiliations: I have many relationships with company public relation firms through my participation as a member of the media at the Summer and Winter Outdoor Retailer shows. I also work with my wife Inga Aksamit a writer and blogger.
Activities
Hiking
Backpacking
Snowshoeing
Rock climbing

Canoeing
Mountain biking
Skiing
Stand Up Paddleboarding

Vitals
| | |
| --- | --- |
| Height | 5'9" |
| Weight | 165 |
| Boot/Shoe Size | 9 |
| Jacket/Shirt Size | medium |
| Pant Size | 33 waist |
A life long outdoorsman with over 45 years of hiking and backpacking experience, I spend 40-50 days a winter skiing all over the west and the rest of the year is filled with hiking, backpacking, long distance canoeing, mountain biking and traveling the world. With 5 tents, 5 stoves, several packs and sleeping bags, I am a bit of a gear junky. Retired, I spend a great deal of time volunteering at Jack London State Park in Glen Ellen, California. I have hiked the JMT, High Sierra trail, numerous parts of the PCT, the Chilkoot Trail in Alaska twice, the Santa Cruz trail in Peru, the Tour of Mont Blanc and paddled over 500 miles on the Yukon River. With my wife, a writer, we have traveled all over Southeast Asia, New Zealand, Australia, Peru, Latin America, Indonesia, and Canada. I have been photographing outdoor gear for about 10 years and have been reviewing products using the written word  since 2014. My past reviews can be found by searching Steve Mullen or gearmansteve.
Gear Reviews (127)
Forums
Steve Mullen has participated in 16 discussions. View all »