Gecko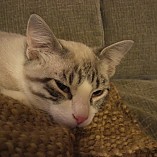 I am a:
63-year-old backpacker
Location
: Rolla, MO
Occupation:
Software Engineer & Writer
Activities
Hiking
Backpacking
Geocacheing
Canoeing
Mountain biking

Fishing
Swimming
snorkeling
diving

Vitals
| | |
| --- | --- |
| Height | 5' 3" |
| Weight | 130 lbs |
| Boot/Shoe Size | 7 |
| Jacket/Shirt Size | 8-10 small |
| Pant Size | 8-10 small |
I'm an ultra-lightweight backacker because I enjoy the technical aspect of bringing the minimal amount of survival gear as well as the freedom that a smaller load gives me. I practice urban stealth camping using my Hennessy Hammock, and I go on long mountain bike treks either on the trail or off, and stealth camp along the way. Meaning that I camp out of the way of the main traffic on the trail. I've hiked the Florida Trail, many sections of the Appalachian Trail, Pikes Peak, all over Hawaii, and most currently a biking and backpacking exploration of the springs and caves of Missouri. No, we don't bike in the caves, but it has crossed my mind!
For me the way that everyday concerns disappear the moment I'm on the trail represents the freedom that I most enjoy about the outdoors. If you suggested a range of outdoor activities I'd pick backpacking, hiking, biking, van camping, and camping, in that order. I find trails to hike everywhere, even down a city street.
Hike on!
Gear Reviews (4)
Forums
Gecko has participated in 10 discussions. View all »