Go Time! (Jesse Maloney) (Go Time)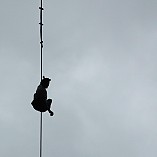 3,278 reviewer rep
32 forum posts
joined Apr 5, 2015


Full Name: Go Time! (Jesse Maloney)
44-year-old male adventure seeker
Shoreview, MN
Affiliations: I am an ambassador for AKU footwear for 12 months starting May 2018.
| | |
| --- | --- |
| Re: Meet Teri: Section Hiker, Biker, Skier, Sunscreen Wearer, and Reviewer of the Month | January 17, 2019 |
| Re: Meet Ross: Bike Tech, Backpacker, Paddler, Reviewer of the Month | April 19, 2018 |
| Re: "In Perpetual Need of New Adventures"—Meet Reviewer of the Month Christine | April 15, 2018 |
| Re: End of 2017 Caving Trip | January 9, 2018 |
| Re: Supplementing my -20 F. down mummy bag | January 2, 2018 |
About
I have a healthy appetite for exploring off-trail locations I find while browsing Satellite maps.
I enjoy old archaeology sites, urban exploring in sewers, tunnels, caves, abandoned buildings and old architecture.
I like buying used gear, testing it out and reviewing it. 
Some of my favorite things are snorkeling fresh water, cliff jumping, eating gourmet food that I find along the trail. Oh, I am also in search of the ultimate burger wherever I go.
Outside Magazine voted Duluth MN the best city (2014) in the country for access to the outdoors. It really is spectacular. The North Shore of Lake Superior is a national gem. 
I have many years of experience with gear, trends, sites (domestic and foreign). Nevertheless, the game is always changing so I'm learning a ton as I go, especially from YOU on Trailspace!
Claustrophobia and vertigo do not affect me in the least bit.
Mantra: a little calculated risk is good for a person.
If you ever find yourself in MN and want to explore some excellent, non-mainstream places -feel free to ask me where the great spots are!
Activities
Hiking
Backpacking
Snowshoeing
Trail running
Orienteering
Backcountry skiing
Mountaineering
Ice climbing
Rock climbing

Canyoneering
Geocacheing
Canoeing
Mountain biking
Fishing
Swimming
spelunking
wild edibles and medicinals

Vitals
| | |
| --- | --- |
| Height | 5'11" |
| Weight | 173 |
| Torso Length | 18.5 |
| Boot/Shoe Size | 11.5 |
| Jacket/Shirt Size | L |
| Pant Size | 32-34 |