grasshopper104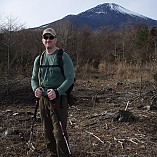 I am a:
hiker
Location
: Camp Fuji, Japan
Occupation:
US Marine
Activities
Hiking
Backpacking

Orienteering
Shooting

Vitals
| | |
| --- | --- |
| Height | 69" |
| Weight | 180 |
| Torso Length | 19.5 |
| Boot/Shoe Size | 11W |
| Jacket/Shirt Size | L/M |
| Pant Size | M |
My wife and I started doing a lot of car camping a few years back. She has some existing injuries that prevent her from backpacking, but when I got to mainland Japan (base of Mount Fuji) I started on my hiking and backpacking adventures. I've been steadily acquiring my gear and building a good kit. Still a ways to go and since I'm mostly a solo hiker, I don't need to worry too much about funding stuff for the wife! I wish I had found this site a few months ago, but its good to read the reviews on products I've already purchased and see that there are many others that like them just as much as I do.
Gear Reviews (2)
Forums
grasshopper104 has started 1 forum thread and participated in 3 discussions. View all »