HeatherLynneS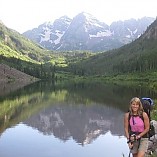 I am a:
43-year-old backpacker
Location
: Baltimore, MD
Occupation:
Trail Programs Manager
Activities
Hiking
Backpacking
Snowshoeing

Rock climbing
Canoeing
Kayaking

Vitals
| | |
| --- | --- |
| Height | 5'1" |
| Weight | 120 |
| Boot/Shoe Size | 6 |
| Jacket/Shirt Size | Small |
"Life is not about waiting for the storm to pass. It's about learning to dance in the rain." I live by this rule. (If I had waited for the storms and rain of 2003 to pass, I would still be thru-hiking the Appalachian Trail today.) This motto has helped me experience my world even when conditions aren't perfect. When it comes to travel, adventure and new experiences, I like to take advantage of opportunities that present themselves and make things happen. My bucket list would wrap around the world three times. A few things that I have crossed off so far and continue to enjoy:
Backpacking, hiking, scuba diving, sky diving, rock climbing, parasailing, hangliding, Class Five rafting, canoeing, kayaking, running, rappelling down a 23 story building in Baltimore (legally of course), snow skiing, snowshoeing, cross country skiing, horseback riding, water skiing, and windsurfing.
I've backpacked the Tetons, Grand Canyon, and the Maroon Bells along with most of the East coast and some of Europe. Travel is by far my biggest passion and I've barely touched the surface. Next on the list...Glacier, Kilimanjaro, Thailand, and a thru-hike of the Pacific Crest Trail. I suppose I should look at tonight's winning lottery numbers.
Articles (7)
| | |
| --- | --- |
| Q&A with Feathered Friends Designer Brent Zwiers | July 12, 2011 |
| Q&A with Jennifer Pharr Davis, AT Speed Hiker | June 22, 2011 |
| Get Dirty on National Trails Day, says Mike Rowe | May 17, 2011 |
| Sleeping Bag Construction: Baffles, Layers, and Shingles | April 12, 2011 |
| Gear Explained: Synthetic Insulation | April 6, 2011 |
| Gear Explained: Down Insulation | April 6, 2011 |
| Gear Explained: Sleeping Bag Shapes, Sizes, Fits | March 15, 2011 |
Forums
HeatherLynneS has participated in 9 discussions. View all »