herdingcats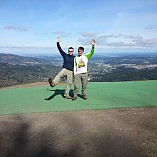 I am a:
hiker
Location
: Des Moines, WA
Occupation:
Telecommunications entrepreneur
Affiliations: I have no professional relationships in the outdoor industry.
Activities
Hiking
Backpacking
Mountaineering

Trekking
Peak Bagging
Scouting

Vitals
| | |
| --- | --- |
| Height | 5'10" |
| Boot/Shoe Size | 11.5 |
| Jacket/Shirt Size | 44 / XL |
Hiker Profile
Male hiker, early 40's... suffering from inherited Wanderlüst and trying hard to pass on the sickness.
I grew up in Alaska heavily involved in Boy Scouts and enjoying the best and worst that the wilderness can dish out.  Eventually making my home in Washington State, I took a few decades off from serious outdoorsmanship and fitness while I was focused on the career.  Now I have quite a lot of catching up to do as I work to get my peak health back and get reacquainted with updated hiking technique and Campcraft.  My reviews often reflect this point of view.
A significant part of my focus is a personal interest in sharing the outdoors with my three boys.  While my wife and I busy them with scholastic and competitive endeavors, we also keep them heavily involved in Cub Scouts and Boy Scouts where I'm an active leader with several area groups.  While I am ever-open to helping them on the "trail to Eagle (Scout)", I think the key goal is to transfer a deep understanding and (hopefully) a love of the outdoors.
Outdoor Interests
Of all the activities I've enjoyed in the outdoors, none have come close to capturing my heart and soul like distance trekking, mountaineering and peak-bagging.  It took a lifetime to understand that I'm drawn to these pursuits.  While I can't explain why exactly, I am certain that I embrace the peace and personal challenge that I find when doing them.
Spring 2014: I just started to keep track of my peak-bagging efforts at Peakery.  It also includes a few peaks I've taken on in the past.  While not a complete list of my hiking efforts, I have kept track of 100% of the peaks I've sought out.
In addition to the outdoorsmanship efforts, I've also enjoyed a lifelong interest in wildlife.  Though I'm a plant biologist by education, I've certainly been drawn to larger sized land mammals and large Oceanic mammals and fish.  I should have gone with a Zoology education.  I even knew that at the time... long story.  In any case, I am certain it was my mother that set that train in motion when we moved to Alaska as a young family.  She made certain that my brother and I had every opportunity to avail ourselves to the Alaskan adventure.  I recently made a list about my wildlife encounters at a local Forum.  I was surprised that I just kept writing and writing.  The list illustrates just how successful my mother was at engaging our family with a full Alaskan experience.  Witness the Wildlife Extravaganza!
Gear Lists
Here are my two primary pack lists for typical hikes and backpacking trips.
As with most (all?) adventurers, these are dynamic lists that I'll customize if I feel like I have cause to.  For example, I often take a smaller pack with much less gear for a day-hike if I'm doing a training jaunt in my own neighborhood.  After all, I'm never alone long enough in this area to worry about overnight or cooking gear, so that kind of thing gets left behind.
Gear Reviews (21)
Forums
herdingcats has started 3 forum threads (including 2 trip reports) and participated in 34 discussions. View all »