hiker1982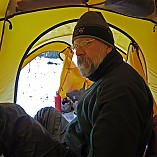 Occupation:
Teacher (plant ecologist and chemist)
Activities
Hiking
Backpacking
Snowshoeing
Canoeing

Photography
Bicycling
Running

Did week-long to 2000 mile long bicycling trips in the 1970s as a teenager.
Backpacked (self-supported) the PCT from Mex to Can in 1982, CDT from Mex to Can in 1988, and the AT from GA to ME in 1995. Over 20,000 mi of backpacking in 35 states and AB, BC and the Yukon. Over 2 yrs of wilderness canoeing in Ontario and Manitoba. My spiritual backpacking mecca is Great Smoky Mtns NP...been going there since 1974, accumulating > 3500 total trail miles.
Plant ecology research in GSMNP and Rocky Mtn NP.
"5/19/82   Downed a 4 egg veggie-cheese omelette, tea, 4 slices of angel food cake with pineapple slices et le jus de fruit, and a pint of choc milk. When we got to the Wel...," "...I ate apple pie, vanilla pudding, homemade bread, choc cake, drank a pint of OJ, oh yeah - plus chowed a few cookies. This kept me full through the afternoon."
Gear Reviews (2)