hotdogman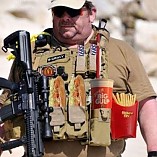 I am a:
hiker
Location
: New Hampshire
Occupation:
Small business owner
Activities
Hiking
Backpacking
Snowshoeing

Orienteering
Taking my kids in the woods for any reason.

Vitals
| | |
| --- | --- |
| Height | 6' |
| Weight | 210 |
| Torso Length | 22 3/4 |
No that is not me in my avatar, I just though it was a funny pic. Im not quite that big, but I would be if I didnt exercise. Im a foodie, thats what my business is, and I do all the cooking at home and on the trail. I wouldnt eat that mcd junk on his chest unless I was starving, id rather eat tree bark.
Forums
hotdogman has started 30 forum threads and participated in 288 discussions. View all »