Donald H Ridenour @Hugh 2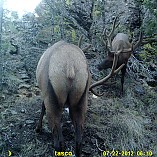 I am a:
50-year-old backpacker
Location
: Oregon
Occupation:
Fabricator
Activities
Hiking
Backpacking

Fishing
Hunting

Vitals
| | |
| --- | --- |
| Height | 5' 9.75" |
| Weight | 195# |
| Torso Length | 18.5" |
| Boot/Shoe Size | 9.5 |
| Jacket/Shirt Size | lrg. |
| Pant Size | 34-32 |
    Born and raised in central Oregon, still here and don't plan to leave unless family wants to move to Alaska, don't see that happening. Avid out doors man, I love to hunt, fish, and just wonder around exploring any chance I get. I like the solitude of solo camping as well as sharing the outdoor experience with family and friends. Not a serious back packer and rarely see a mapped trail, I like places that have been mostly forgotten by man. I build my own archery equipment from cutting the wood to building the bow and arrow. Hunting is certainly my favorite thing to do, not sure if I like meat hunting or shed hunting the best, either way it is wear my excuse to pack comes from.
Gear Reviews (8)
Forums
Donald H Ridenour has started 1 forum thread and participated in 2 discussions. View all »