in2snow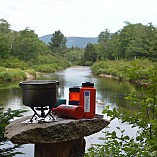 Avid outdoorsman, I always appreciate getting outside whatever the activity may be. Have been backpacking all over the US and Canada since the age of 12. My step father was an old school survivalist and we spent our summers usually out West packing into some wonderful areas to spend up to 2 weeks at a time. I've kept this up over time and as a long time scout leader led many high adventure trips for the older boys to some really unique places. My friends and family usually take a few short weekend trips a year and about every 3 years journey into somewhere for 5+ days.
While I've spend some time in the Smokey's, my goal for the future is to spend more time on the East coast. Favorite spots, probably White Cloud wilderness in the Big Horn Mtns WY, Philmont SR NM, Tetons WY, RMNP CO, and Olympic NP in WA.
Please feel free to request to join our facebook group (link above) were always looking for pictures, trip experiences, and gear recommedations. If you don't live in the midwest we will welcome you as well.
Gear Reviews (11)
Forums
in2snow has started 4 forum threads (including 3 trip reports) and participated in 34 discussions. View all »