Jack @Jack 2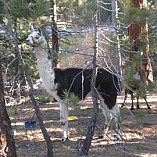 Location
: California
Occupation:
llama wrangler
Affiliations: I'm a free agent...if I recommend something I really mean it. That being said please send me all the free gear you like...NOT!
Activities
Hiking
Backpacking
Snowshoeing

Orienteering
Fishing

Vitals
| | |
| --- | --- |
| Height | 6 1 |
| Weight | 198 |
| Boot/Shoe Size | 12-12.5 |
| Jacket/Shirt Size | Large |
| Pant Size | 36 |
I've gotten into llama backpacking the last 3 years. My last 60 miles/60 lb pack/6 days carry it yerself trip kinda sucked the joy out of doing it on my old body. I have had too much fun...but that doesn't mean I can't have some more!
Emigrant, Hoover, Inyo are my favs...love Gianelli and everywhere you can go from there...West Walker River...same thing...and early season (I mean before the horsies can even get through) if there's a prettier place than Kennedy Meadow I sure don't know where it is! (The one off the 108). And...my old hiking buddy, Babalou (Louie the dog) gets to come along in the Wilderness and National Forests. Big plus!
I'm doing the JMT S/N with a friend who's coming over from Mt Whitney and meeting up at Sandy Meadow/Crabtree area. We're taking four of the wholly beasts and plan to spend a month fly fishing the trail up to Tuolumne Meadows. Two weeks after that I think I've got a week long trip from Sonora Pass/108 to Tuolumne Meadows. And then in the Fall I want to get my family out for an end of the season week or so. If you're on the JMT in August, '14 look for us and say 'hi'!
Gear Reviews (6)
Forums
Jack has started 1 forum thread and participated in 3 discussions. View all »