James Steen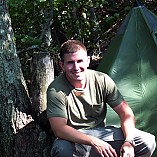 Location
: Grand Rapids, MI
Activities
Hiking
Backpacking

Fishing

I am from West Michigan.  I love being outside.  I enjoy hiking, backpacking, fly fishing, kayaking, running, and working out at the gym.  Currently I reside in the Beer Capital of the US - Grand Rapids, Michigan and as such I enjoy trying new craft beers. 
I have been backpacking since about 1995.  I am a bit of an old school backpacker in that I embrace products that may not be as cutting edge and I'm not super conscious about the weight of my pack.  My philosophy is that at end of a day's hike, if you're not in pain somehow, you didn't hike far enough.  That's probably how I've earned the nickname of Sherpa. 
I mostly hike Michigan trails in the northern lower peninsula but I've also hiked in the Wisconsin area, Pennsylvania, California, and Montana. 
My favorite back country spots are hiking the North Country Trail through Tahquamenon Falls State Park, or along the Manistee River.  The 70 mile loop of the High Country Pathway is awesome as well.  South Manitou Island is a favorite just for the views alone along with Picture Rocks National Lakeshore.  Sand Lake Quiet Area, Hoist Lakes Foot Travel Area, and the Jordan River Pathway are also among my top favorite places too.

My goal is to someday hike the North Country Trail and the Pacific Crest Trail. 
Gear Reviews (9)
Forums
James Steen has started 1 forum thread View all »