JasonLooseArrow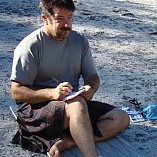 Location
: Chowchilla/Yosemite, CA
Occupation:
Electrician by day. Backpacking gear maker at night.
Website:
http://ArdethGear.com
Activities
Backpacking
Snowshoeing
Kayaking
Coffee roasting

making backpacking gear
sewing
experimenting
and gardening.

I just moved to Chowchilla from Yosemite, where I lived for eight years. We've been backpacking In Yosemite between 20 to 30 days a year for years. We're also vegan, we enjoy kayaking and all sorts of adventures.
I started a backpacking gear company, Ardeth, where I am attempting to bring new gear designs into the backpacking community. I intend to make everything right here, in the United States.
Forums
JasonLooseArrow has started 1 forum thread and participated in 19 discussions. View all »