Jayson Merryfield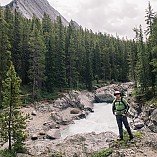 297 reviewer rep
34 forum posts
joined Jun 19, 2017


I am a:
40-year-old backpacker
Location
: Edmonton, Alberta
Occupation:
Accountant
Website:
http://www.thehinterlandprinces.com
Activities
Hiking
Backpacking
Snowshoeing
Geocacheing

Canoeing
Mountain biking
Fishing

Vitals
| | |
| --- | --- |
| Height | 6' |
| Weight | 220lbs |
| Boot/Shoe Size | 10 |
| Jacket/Shirt Size | L |
I grew up camping, hiking, backpacking, canoeing, sport climbing.... the long & short of it is that I was in Scouting for 12 years growing up, and had an amazing core group of leaders who took us on many adventures, and facilitated the crazy things we wanted to get up to. Coming from a family that was outdoorsy but not particularly adventurous, it was a great upbringing. 
Queue my 20's, when my adventurousness fell thoroughly off the map in the rush of dating, marriage, home ownership, education, careers, plus a dozen other poor excuses. 
Since having children 8 years ago, my love of adventure and the backcountry has been reignited, partly because it's something I want to pass this feeling I have along to my children, but mostly because I'm discovering how much I get mentally, physically, and spiritually from being in touch with the wilder sides of nature. 
And so, I am learning. I am relearning. I'm finding new ways of getting into nature, new perspectives, new techniques, new tools, and pushing beyond old limits to find new adventures to take both myself and my two little boys on.
Gear Reviews (6)
Forums
Jayson Merryfield has started 3 forum threads (including 2 trip reports) and participated in 31 discussions. View all »