Jeff Dillavou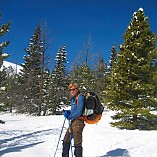 I am a:
backpacker
Activities
Hiking
Backpacking
Snowshoeing

Mountaineering
Geocacheing
Epic Adventures!

I am the organizer of:
Colorado Backpackers
Tent Campers of Colorado
Colorado Springs Adventures
All are non-profit meetup groups to encourage getting outdoors with respect. With over 3000 members we are growing and are putting on new adventures all the time. We support No Trace, Diversity, and Respect. Here is just one of the hundred videos from our trips... Indian Peaks / Crater Lake Backpack!
Gear Reviews (12)