jeff zuptich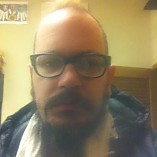 I am a:
44-year-old backpacker
Location
: St. Joseph, MO
Occupation:
Tattoo Artist
Affiliations: I've been an REI member since 1998
Activities
Hiking
Backpacking
Snowshoeing
Orienteering
Adventure racing
Rock climbing
Geocacheing

Canoeing
Mountain biking
Fishing
Rock
Alpine
ice Climbing armchair quarter backing.

Vitals
| | |
| --- | --- |
| Height | 6' |
| Weight | 220 |
| Boot/Shoe Size | 11.5 |
| Jacket/Shirt Size | XL |
| Pant Size | 38' |
I've been camping and spending time outdoors all my life. I started backpacking 23 years ago and I don't spend nearly as much time doing it as I would like. While living in the central Valley of California I got to spend a lot of time in the mountains which I never had growing up in Missouri. I started getting interested in climbing them, while I never had a partner I read about it a lot and did as much solo climbing as I could. Even after I moved back to Socal and I lived at the bottom of Mount Baldy. I climbed that mountain a lot, even in winter always alone. So I ended up turning around a lot due to unsafe snow conditions etc. I live in MO again and have to drive pretty far to see any elevation of note. I've made some friends in the adventure racing community here and I think I am going to start doing that this summer. Wish me luck!
Gear Reviews (14)
Forums
jeff zuptich has started 7 forum threads View all »