Jerry Caldwell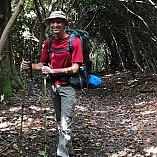 I am a:
54-year-old backpacker
Location
: Chapin, SC
Occupation:
Coffee Shop Owner
Website:
https://www.mountainblazers.com/
Activities
Vitals
| | |
| --- | --- |
| Height | 72" |
| Weight | 154 |
| Boot/Shoe Size | 10 |
My first ever hiking trip was the summer of 1985 on the Appalachian Trail in Virginia. During that trip our group ran into a gentleman thru-hiking the trail on his way to Maine. I've been hooked ever since.
After completing a 20-year career in the Marines with little to no recreational camping (except for a hike up Mt. Saint Helens in 2002), I am back at it in full force. I'm now the owner of a coffee shop, a practicing Vegan, and an avid hiker. I try to get to the mountains every other weekend, especially during the summer months.
The hikers I've met express different reasons for wanting to be out in the wilderness. For me, it is not about getting away from it all. I'm happy during the rare occasions when I have mobile coverage at a campsite. I love hiking simply because I enjoy the challenges, the rewards, and the beauty of all that nature has to offer.
My philosophy for hiking is simple. Hike your own hike. Enjoy it in the manner which makes you the happiest. Worry less about the expectations of others. Coincidentally, this is also my philosophy for living life.
I've started a hiking club with a website, which provide an introduction to the basics of backpacking. Please check it out if you get a chance. mountainblazers.com - We allow new and experienced backpackers to join.
Gear Reviews (6)
Forums
Jerry Caldwell has started 8 forum threads View all »