Jim51111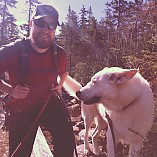 Full Name: private
male hiker
New Hampshire
Occupation: Educational Research
Email: private

About
Growing up in rural Connecticut allowed me the opportunity to spend time outdoors all throughout childhood. I was able to hike, camp, mountain bike, and ski (downhill and cross country) all within my town. The passion for the outdoors that I developed growing up helped influence where I settled at different stages of life. I selected my college based on access to hiking and skiing and when I chose to move to Washington, D.C. I made sure I knew the best areas for mountain biking within a short drive. My final move, to the White Mountains of New Hampshire, was purely based on access to the woods. 
During our time in Northern New Hampshire my wife and I (and our dogs Roland and Casper) spend all of our free time hiking and backpacking in the spring, summer, and fall, and skiing and snowshoeing in the winter.
Since moving to the White Mountains I have started Alpine Touring which has provided for skiing experiences I never before imagined.
In order to give back to the community I am a member of the Pemigewasset Valley Search and Rescue team based in Franconia, NH. We assist with lost and injured hikers throughout the White Mountains.
Activities
Hiking
Backpacking
Snowshoeing
Trail running
Backcountry skiing

Canoeing
Mountain biking
Fishing
Search and Rescue