jmcwatty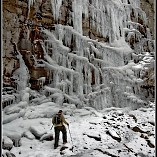 I am a:
42-year-old backpacker
Location
: Greenwood, SC
Occupation:
computer network engineer
Website:
http://carolinasbackpacker.com (under construction)
Activities
Hiking
Backpacking

Fishing

Vitals
| | |
| --- | --- |
| Height | 6'1" |
| Weight | 245 |
| Torso Length | 19" |
| Boot/Shoe Size | 13 |
| Jacket/Shirt Size | XXL |
| Pant Size | 38 wait 32 leg |
I live in Greenwood,SC. Not to far away from the mountians of the western carolinas. I got into camping and Backpacking while in the Boy Scouts. While in the scouts I did many weekend camping and backpacking trips but two of the highlights for me was Canoeing in Ely Minn. and the trip to Philmont Boy Scout Ranch.I also earned the rank of Eagle Scout, which to this day is one of the highlights of my life. After recieving my Eagle in 1995 I got out of all of it, only God knows why. Over the last couple years I have started getting back into the backcountry and relized what I have been depriving myself from. I find it quite amazing, all the stuff I remember from my days in Boy Scouts and I love getting out as much as possible.
I am open to any advice anyone has to offer!
Gear Reviews (5)
Forums
jmcwatty has started 21 forum threads (including 2 trip reports) and participated in 122 discussions. View all »