Joe Tucker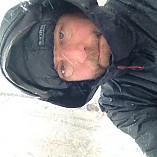 Full Name: private
hiker

Email: private

Affiliations: I have no relationship with any outdoor industry manufacturers or retailers. This is just my opinion based on personal experience.
Gear Reviews
Joe Tucker hasn't written any gear reviews.
About
I love being outside either day hiking, car camping or taking three to five day backpacking trips. Each give me a different kind of experience, but all make me feel calm and more connected to the wilderness. My son and daughter are often with me and we love the sense of adventure we get whenever we explore the outdoor world around us. We have explored the Mountains of Ga, TN, NC, and NM. The North and South rims of the Grand Canyon, the canyons of Bryce, and The Narrows of Zion.
This year my son and I are going to section The AT. We started The Ga section in February and we will piece it together one weekend and sometime week at a time. It may take us 10 years to complete, but at least we are outside connecting with ourselves, each other and the land.
Activities
Vitals
| | |
| --- | --- |
| Height | 5 "11" |
| Weight | 190 |
| Boot/Shoe Size | 13 |
| Jacket/Shirt Size | Large |
| Pant Size | Large |