Joel Irons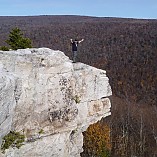 I am a:
backpacker
Location
: Morgantown, WV
Occupation:
Owner of Highland Gardens
Activities
Hiking
Backpacking
Kayaking

Mountain biking
That's about all I do. :-)

Vitals
| | |
| --- | --- |
| Height | 5'10" |
| Weight | 190 |
| Boot/Shoe Size | 10.5 EEEE |
| Jacket/Shirt Size | L |
| Pant Size | 34 |
Started Solo Backpacking in the late 80's early 90's.  Hiked the Allegheny Trail (310 miles) in 1994. Have since hiked most of the trails in the Mon National Forest and wilderness areas of WV, and have biked all the rail trails. Also over the years I've hiked sections of the AT in Georgia, North Carolina, Virginia, Pennsylvania, and Maine where we hiked a portion of the 100 mile wilderness near Gulf Hagus in 2012, and other natural areas in Maine, but never made it to Katahdin! Stupid Stupid Stupid!! LOL!  Planning on going back in 2015.  Currently getting out as much as life allows, and enjoying more local areas, and exploring parts of South Western PA.  
Over the years I've watched the ultralight revolution progress, and have steadily upgraded my gear.  Back in '94 I was carrying an external frame beast of a pack. I was lucky to have a base weight of 40 pounds!  Can you imagine?!  This new generation will have no idea what that was like. The aches, the pains, the blisters!  This scant 10 lb base weight I carry now is like having nothing on my back. Absolutely amazing. 
Thank you for the warm welcome. I wish you all well, and hope to see you on the trail! 
Gear Reviews (7)
Forums
Joel Irons has participated in 1 discussion. View all »