John F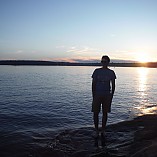 I am a:
26-year-old canoeist
Location
: Guelph, Ontario
Occupation:
Park Warden - MNRF
Affiliations: I'm currently a student at Brock University in St. Catharines, where I'm studying Outdoor Recreation and Leisure studies and French. In the summers, I spend my time working for the ministry of Natural Resources and Forestry, but have no professional relationships with any manufacturers or retailers.
Activities
Hiking
Backpacking
Snowshoeing
Canoeing

Kayaking
Mountain biking
Cross Country Sky

Vitals
| | |
| --- | --- |
| Height | 6'5" |
| Weight | 195lbs |
| Boot/Shoe Size | 13 |
| Jacket/Shirt Size | XL |
| Pant Size | 36/36 |
I'm a big fan of backcountry and front country camping. I've been lucky enough to be apart of numerous canoe trips throughout the beautiful province of Ontario. I've recently been getting into backpacking and snowshoeing, and can't wait to discover where those hobbies will take me. Despite all this, paddling holds my heart. I'm an avid canoeist who loves all things canoe, whether it be solo, tandem, tripping, or day use, I love it all!
Gear Reviews (9)
Forums
John F has started 2 forum threads and participated in 3 discussions. View all »