Josh Wood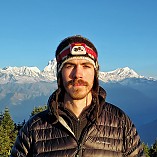 I am a:
33-year-old backpacker
Location
: Hobart, Tasmania, Australia
Occupation:
Fitness Coach and Wilderness Guide
Website:
https://coachjoshwood.com/wild-living-blog/
Affiliations: I am a Fjallraven Australia ambassador and as a working Wilderness Guide have a range of pro-deals.
Activities
Hiking
Backpacking

Snowshoeing
Fishing

Vitals
| | |
| --- | --- |
| Height | 175cm |
| Weight | 70kg |
| Boot/Shoe Size | 11US |
| Jacket/Shirt Size | S |
| Pant Size | 29" |
Hi, I'm Coach Josh Wood. I am a Fitness Coach and Wilderness Guide who lives in Hobart, Tasmania. My goal is to help people find their passion for activity. I do my work in the realm where training meets real world adventure. My training philosophy centres around the idea that the ability to be physically active is a gift, and exercise can be the high-point of your day! My goal is to help you build yourself up in pursuit of your goals, and help you achieve your best self.
As a Wilderness Guide, I interact with many adventure sport athletes who, like any athlete, put their bodies under intense strain. Working and spending my time in this realm has helped me develop a well-structured training program that can improve performance and reduce injury rates.
When not coaching or guiding I spend most of my time outside exploring, or inside, exploring the world of music, literature, and writing.
More at coachjoshwood (dot) com
Gear Reviews (8)