Joseph Renow @jrenow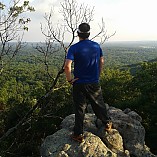 I am a:
46-year-old
Location
: Indiana
Occupation:
Adjunct Professor
Activities
Hiking
Backpacking
Canoeing

Kayaking
Fishing

My Self
I would describe myself as someone who likes to go to remote places and stay there for days...sometimes weeks at a time. Typically my adventures involve a backpack…a bike...a kayak…or a canoe…but I've been known to car-camp (usually in the off-season). I probably solo more than anything else...but I couple a good deal...and go as a group at least several times a year.
My Philosophy
My general philosophy is less work and less cost are good things. Things need to be durable...and if they aren't...they should be simple/cheap/easy to replace. I like low pack-weights...but I am not a half toothbrush and polycro-tarp kinda guy...I usually carry a pillow...some fresh food...and sleeping clothes.
My Closet
I do not consider myself a gear-head...but over the years I have (self-consciously) accumulated a lot of stuff...so to minimize this anxiety I am always attempting to reduce my collection. Doing so requires thinking about gear choices rather closely...which is sort of why I am here and why I participate. I figure participating in and advocating for minimalist practices is a way I can offset the paradox between a love for the outdoors and the costs of loving the outdoors.
My Setting
Though I have slept outdoors in many places…I very much have what I would call a home-region. Familiar terrain for me stretches roughly from Missouri in the West...Tennessee in the South...Virginia in the East...and Wisconsin in the North. Though not perfectly accurate...I would say I primarily spend my time in and around river-valleys and heavy woodland. For me...trees and water tend to be plentiful...sometimes too plentiful.
Finally...I do not enjoy sleeping outdoors when the temp is below freezing...at least not without an external heat-source. I have spent a lot nights in cold weather...but I don't like it...and what I have experienced is nothing like the snow-cover for months at a time and 20-30 degrees below freezing variety...more freezing sleet with wind...its miserable and I have an out-sized love of fleece because of it.
Gear Reviews (28)
Forums
Joseph Renow has started 5 forum threads (including 2 trip reports) and participated in 442 discussions. View all »