Junglecommando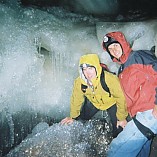 I am a:
hiker
Location
: Whidbey Island, WA
Occupation:
Dentist
Activities
Hiking
Backpacking
Trail running
Backcountry skiing
Rock climbing

Canyoneering
Kayaking
Fishing
Caves

Vitals
| | |
| --- | --- |
| Height | 5'9 |
| Weight | 195 |
| Boot/Shoe Size | 9.5 |
| Jacket/Shirt Size | L |
| Pant Size | 34/30 |
I'm a product of Seattle, WA where everybody in High School camped, skied, and owned a North Face Denali.  My experience in the outdoors started when my father took me backpacking at the age of 4 in the cascades.  Since then, I've been to most of the major sites in the Pacific Northwest, from the Bowron Lakes circuit to Yosemite and Yellowstone.  I climb recreationally, ski well, and my latest passions have been technical caves and ultralight hiking.  I realized in undergrad that I needed to do 50 milers to stay sane, but had no more than a weekend.  That was 2003, and I found out I could hike 54 miles in a day along the peninsula of WA.  I have since found routes and long hikes that I normally think of as week long hikes, then hike them in a day.  My little sister and I hiked the Zion Narrows in 5:24.  I'm not really a racer, but I love minimizing my gear and pacing myself to achieve what I put my mind to. Also, my ankles are bulletproof.
 Going to school in Rexburg, ID I found my second love: technical caves.  This came in the form of the Fossil Mountain Ice cave/ Darby wind cave, a cave system on the ID/WY border.  Multiple belays, stemming, climbing, getting cold, and getting scared.  Somewhere along the way I was search and rescued 3 times, I guided tours through ID and WA caves, and bought about seven headlamps (back when LEDs were new, a good one was spendy and quickly made obsolete).  Other facts that should go bulleted:
I believe I live in the most beautiful part of the world, Whidbey Island WA.  
My home ski mountain is Mt. Baker, which holds the record for most snow in a single season-1196 inches.
 I do a trip to Whistler, BC most years.
 I'm addicted to jackets.
Married with 3 kids.  
When I buy/use/review gear, few things are more important than durability and waterproofing
Future trips: Wonderland trail as an overnighter, half dome, enchantment lakes, Zion subway
Gear Reviews (31)
Forums
Junglecommando has participated in 4 discussions. View all »