jungleexplorer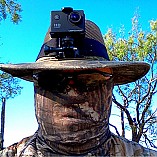 I am a:
50-year-old
Location
: United States
Occupation:
Minister
Website:
http://www.jungleexplorer.net
Activities
Hiking
Backpacking
Mountaineering

Canoeing
Kayaking
Fishing

Vitals
| | |
| --- | --- |
| Height | 5.10 |
| Weight | 190 |
| Boot/Shoe Size | 10.5 |
I love the outdoors.  I am a conservationist that believes that God gave us the earth for our use, but not our abuse.  I am not an environmentalist that believes that man is an infection that is hurting mother nature. I believe that it is the responsibility of parents to teach children their children how to respectfully use God's creation.  I do not believe it is the place of the the government to try to make people responsible by using tyrannical power to micro-manage everything through the power of the law.
Gear Reviews (3)
Forums
jungleexplorer has started 2 forum threads View all »