Elizabeth McCoy @K-Rider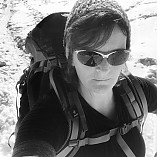 713 reviewer rep
59 forum posts
joined Jun 16, 2016


I am a:
53-year-old backpacker
Location
: Tacoma, WA
Occupation:
RN
Activities
Hiking
Backpacking
Snowshoeing
Kayaking

Mountain biking
Photography
Cycling
Exploring

Vitals
| | |
| --- | --- |
| Height | 5'3" |
| Boot/Shoe Size | 8 |
| Jacket/Shirt Size | M |
I am a RN and a mother of 2 handsome young men, an outdoors enthusiast with tons of energy! I love exploring new places. My dream trips are completing the entire PCT, Machu Picchu and the list goes on.  
My favorite trails are The Enchantments in WA and the JMT in California.
I'm single and hike solo most of the time but would gladly welcome anyone to come and join me on any hike. I have always had a love for the outdoors. I love exploring places I have never been before. When I get on a trail I instantly feel like I have to see where it goes even if it is longer than expected.  I started backpacking after moving from Florida to Washington. After being here over 5 years I decided it was time to really explore this awesome area. I started watching YouTube videos on hiking gear and watching clips of other hiker videos which helped immensely! 
My first overnight backpacking experience here in Washington was kind of what I expected. It was a small section of the PCT starting at Snoqualmie Pass to Kendall and Alpine Wilderness area. 
My first time hiker mistakes: Pack was too heavy, pack not built to carry a lot of weight, started out on the trail too late, hot day, didn't bring a topo map, but did have AllTrails app on phone loaded with route, brought too much stuff, slept with bear canister in my tent (had no clue), ate my dinner in my tent (again, I had no clue lol), ate food I don't normally eat that messed me up,and hiked too far first day.
Things that went right: Right shoes, used trekking poles, enjoyed the scenery, relaxed, met awesome people, took lots of pictures, trail app on phone kept me on the route, filtered water for first time and wore layers. 
I have learned a lot since then and most of it from websites like this one. I have tried all kinds of gear, and I have taken all kinds of gear back (thanks REI for having the most awesome return policy ever!).
I have hiked over 800 miles since I started backpacking and plan on doing thousands more. My plans and goals get bigger every season. I have developed somewhat of an addiction for the wilderness. I need it now, it has become more than just a desire, it is my escape from a busy life and work and my time for solitude and to disconnect from life as we know it and reconnect with nature and simple life's pleasures.
Last summer I hiked SOBO JMT starting from Happy Isles. This summer I am doing NOBO starting at Cottonwood Pass. This is my most favorite trail so far. It feels like I'm on another planet out here! Stunning scenery and amazing Alpine Lakes. 
My future goals: The entire PCT (I would have to quit my job or retire)
                          CDT
                           The West Coast Trail
                           Machu Picchu with my sister (bucket list item)
Favorite back country spot:  I have many! Garnet Lake on the JMT,  The many hot springs near MTR, Summerland on the Wonderland Trail, Snow Lakes in The Enchantments, and Heart Lake on the High Divide Seven Lakes Basin Trail in the Olympics. 
I have a new goal for 2017! I have joined The Mountaineers (Tacoma) 2 years  ago and have done absolutely nothing with the group as of yet. My plan is to at least take a entry level mountain climbing class and join the local climbing gym.
Gear Reviews (42)
Forums
Elizabeth McCoy has started 9 forum threads (including 9 trip reports) and participated in 33 discussions. View all »