Kirk Keller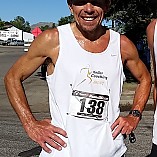 I am a:
trail runner
Location
: Three Forks, MT
Occupation:
Health Strategist / Consultant / Instructor
Activities
Hiking
Trail running

Kayaking
Fishing

I absolutely love getting outdoors as much as possible.  Kayaking, running trails, rafting, hiking, cross country skiing, camping, lets go!  I also enjoy sharing this passion with others - making sure their time spent trekking with me is safe, fun and enjoyable as we create memories.  As owner / manager of Three Forks Base Camp, my wife and I offer lodging in the custom log guest house and tent spaces where you can; overnight it or base camp as you fish, climb, bike, hike, paddle, ski or just sit and take in  the mountain views.  
I enjoy field testing gear too!  With so many improvements in footwear, packs, hydration systems, clothing I am continually searching for which product manufacturer has it figured out for the conditions here in southwest Montana and Yellowstone / Glacier National Parks.  A gear geek for sure!  
Gear Reviews (1)