Korey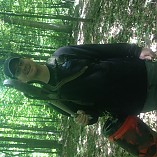 I am a:
41-year-old hiker
Location
: Pennsylvania
Occupation:
Union millwright
Activities
Hiking
Backpacking
Trail running
Adventure racing
Mountaineering

Geocacheing
Canoeing
Fishing
Hunting
gathering

Vitals
| | |
| --- | --- |
| Height | 6' |
| Weight | 205-210lbs |
| Boot/Shoe Size | 11m |
| Jacket/Shirt Size | Xl |
| Pant Size | 36x32 |
Hello, my name is korey and I live in south western Pennsylvania. My family and I spend every minute of our lives that we can on the trails, in the woods, enjoying the outdoors. I am an avid hunter/fisherman of deer, bear, turkey rattlesnakes, etc. I love hunting wild mushrooms and other wild edibles. I spend a lot of time in the allegheny national forest in Pennsylvania with friends and family.
Gear Reviews (6)