Lakeland Nidhatak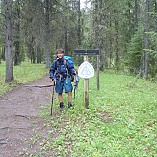 I am a:
backpacker
Location
: Mountain Springs, PA
Email:
lakelandtrail@frontier.com
Activities
Hiking
Backpacking
Snowshoeing

Trail running
Kayaking
Mountain biking

   I love to hike and run trails. I've thru hiked the Appalachian Trail twice, the Pacific Crest Trail, the Continental Divide Trail, and last year, the Eastern Continental Trail (which includes the AT for the third time). Near home I volunteer rebuilding trails.
   I am a very quiet and private person who enjoys the unique camaraderie with fellow hikers and dreamers while trailbound.  
   Favorite movie adventure is "Yukon Passage" and  favorite explorers are Christopher Columbus and also Lewis and Clark and crew.
  Favorite quote is from the movie Dreamrider- "Only dreamers have dreams that come true."
  In 2014 I plan on hiking from the Atlantic Ocean to the Pacific Ocean. 
Gear Reviews (2)