Bill "L.Dog" Garlinghouse @LDog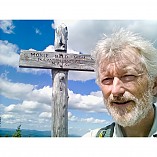 I am a:
backpacker
Location
: Northern, MI
Occupation:
Retired Navy Combat Cameraman
Website:
http://www.laughingdog.com
Affiliations: I have no professional, familial, or economic relationships with any outdoor equipment manufacturer. I was a member of the Trailspace Review Corps, and was occasionally provided equipment to test. Those reviews are so marked.
Activities
Hiking
Backpacking
Snowshoeing
Backcountry skiing

Geocacheing
Canoeing
Kayaking
Fishing

Vitals
| | |
| --- | --- |
| Height | 6' 0" |
| Weight | 170 lbs (190 in winter) |
| Torso Length | 19" |
| Boot/Shoe Size | US 10.5 |
| Jacket/Shirt Size | L to XL |
| Pant Size | 34 waist (36 in winter) 34 inseam |
Been enjoying the outdoors since summers in the Whites with the boy scouts in the 60s. I love to backpack, ski, snowshoe, and sail. Trained in winter mountain travel and rescue by Ski Patrol and the USMC.
In the last few years I've been hiking the Appalachian Trail in sections. Katahdin to Manchester Center, VT took me through the 100 Mile Wilderness, the Presidential Range of the White mountains, and the Green Mountains of Vermont. I've since hiked the AT through the Smokies, the Roan Highlands, the Blue Ridge Mountains, and Shenandoah. I'm off to hike the last section from Manchester, Vermont to Harper's Ferry.

When I'm done with the AT, I don't know what's next.  Maybe I'll buy a boat ...
Gear Reviews (12)
Forums
Bill "L.Dog" Garlinghouse has participated in 19 discussions. View all »