andrew f. @leadbelly2550
TOP 10 REVIEWER
REVIEW CORPS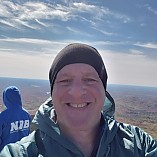 I am a:
hiker
Location
: Cabin John, MD
Occupation:
lawyer
Activities
Hiking
Backpacking
Snowshoeing
Trail running

Orienteering
Mountaineering
Geocacheing
Canoeing

Vitals
| | |
| --- | --- |
| Height | 5' 9" |
| Weight | 215 |
| Torso Length | 20.5 |
| Boot/Shoe Size | 11.5 wide |
| Jacket/Shirt Size | XL/46 |
| Pant Size | 38 waist |
I have been an avid hiker/outdoors person from a young age. I have hiked throughout the high peaks in the Adirondacks, the presidential range in New Hampshire, and a number of other mountains in Vermont and New Hampshire on many occasions over the years, all seasons. I also canoe and trail run fairly regularly. I currently live in Maryland and hike either by the Potomac River on local trails, on small nearby mountains, or in Shenendoah National Park and surrounding areas. I try to take at least one winter backpacking trip annually, so I have a fair amount of experience with snowshoes, crampons, and other winter gear, including large, heavy backpacks and clothing suitable for sub-zero, highly windy conditions.
I have also hiked and camped on occasion in Northern California, the Arabian Gulf, Asia, Central America, and Eastern Europe.
During college, I spent two summers leading teenagers on hiking/backpacking, cycling, and canoe trips in and around the Adirondacks. 
Gear Reviews (188)
Articles (1)
Forums
andrew f. has started 301 forum threads (including 8 trip reports) and participated in 1,742 discussions. View all »