Lewis Bagwell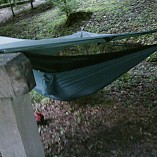 I am a:
71-year-old backpacker
Location
: Woodstock, GA
Occupation:
Serious Wilderness Backpacker
Activities
Hiking
Backpacking
Scuba Diver
Rock Climber

Motorcycle Racer
White Water Kayaker


Vitals
| | |
| --- | --- |
| Height | 6'1" |
| Weight | 200 |
| Torso Length | 32 |
| Boot/Shoe Size | 11 |
| Jacket/Shirt Size | M |
| Pant Size | 35 |
'I am mainly a wilderness backpacker who recently switched from to tent camping to hammock camping. Discovered that if you hang a hammock correctly then one can sleep flat on their side and have a good night's sleep. Have also switched from MSR Whisperlite type of stoves to alcohol stoves after many years of swearing by my MSR International and Soto stove. After a couple of incidents with pressurized white gas stoves I realized that I put too much faith into the little o rings not to fail. In the case of canister stoves, the user is really trusting his life on that little o ring, which can fail (rare, but it does). That drove me to the Evernew titanium stove and DX titanium stand which is my go-to stove for everything. Also have found after going through a lot of lighters and failed lighters that a MSR pezio electric sparker works better than any lighter you can take in the woods. You have to dip it in the alcohol, keep it pointed down, ignite it with a push, light your stove, and then blow the igniter out as if you would blow out a match. It works even when soaking wet better than lighters, flint and steel, water proof matches, or any other type of stove starter. But with all this said, what really matters is getting out in the woods...not your gear. So let's go camping!
Gear Reviews (6)