Lilia Kilmer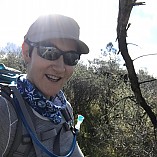 Full Name: private
53-year-old female hiker
Paris, France
Occupation: Hiker/backpacker
Email: private

About
The only way for me to not turn into an axe murdering psycho is to hike.  
Several injuries have made me a total gear freak:  I have tried, returned and exchanged tons of stuff before finding what works for me.  
I currently volunteer with the California state parks and the Bureau of Land Management, doing trail reports, plant & animal studies, guided tours etc.  
Activities
Hiking
Backpacking
Snowshoeing
Orienteering
Geocacheing

Kayaking
Long distance swimming
yoga
martial arts

Vitals
| | |
| --- | --- |
| Height | 5'6" |
| Weight | 130 |
| Torso Length | 17 |
| Boot/Shoe Size | 9 |
| Jacket/Shirt Size | M/L |
| Pant Size | S/M |