Lynda Giguere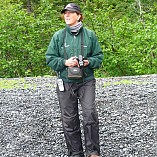 41 reviewer rep
0 forum posts
joined Jul 13, 2015


I am a:
hiker
Location
: Juneau, AK
Occupation:
Public Relations
Activities
Hiking
Backpacking
Snowshoeing
Backcountry skiing
Canoeing
Kayaking

Fishing
Sailing
biking
downhill skiing
Nordic skiing

Vitals
| | |
| --- | --- |
| Height | 5' 7" |
| Weight | 150 |
| Boot/Shoe Size | 9 |
| Jacket/Shirt Size | Large |
| Pant Size | 10 |
Formerly a wilderness guide for Alaska Discovery Expeditions for 7 years; where I primarily led kayak trips in Glacier Bay, Russel Fjord (Hubbard Glacier), and Endicott Arm; Brown Bears of Admiralty (by canoe) and custom trips. I am originally from Maine, but have lived in Alaska now for 40 years. I became a more obsessive and avid hiker after breaking both ankles, one while skateboarding (don't try to impress your kids) and the other trail running.

Kayak and sail for personal enjoyment now; most recent kayak trips include Kenai Fjords National Park and a week-long expedition from Glacier Bay to Juneau. Still into bear-viewing, when I can afford it, to places such as McNeil River Bear Sanctuary and Admiralty Island. Hiking experience has been mostly in Alaska including the Brooks Range, Chugach State Park, and mountains and trails throughout the Juneau area. Outside hiking includes Guadalupe National Park and Big Bend National Park in Texas, some shorter hikes in Maine; and Cornwall/Exmoor and Yorkshire Moors in England. Hiked the Chilkoot Trail for the first time this summer (2015) and I highly recommend it.
Gear Reviews (2)