maddix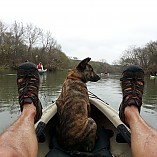 I am a:
camper
Location
: Texas
Occupation:
Information Technology | Microsoft Infrastructure
Activities
Hiking
Backpacking
Geocacheing

Kayaking
Camping

Vitals
| | |
| --- | --- |
| Height | 6'3" |
| Weight | 205 (+/- 5) |
| Boot/Shoe Size | 13 |
| Jacket/Shirt Size | Large Tall (depends) |
| Pant Size | 38/36 |
Eagle Scout who took way too much time off from the great outdoors growing a career and raising a family.  Don't get me wrong we did our share of car camping and short day hikes, but with my son entering his teen years and daughter close behind it's time to take it up a couple notches.
Over this past year (2013) I've hit it hard, getting in what I could as a way to ramp up for bigger adventures.  When my son opted out of Scouts for Civil Air Patrol, I got involved with MeetUp.com as a way to continue getting outside with other like-minded folks.
We also brought home Max from the Humane Society in May 2013 and he's been my constant outdoor companion ever since, going outdoors with me everywhere.  One of my goals is to stick to adventures where Max is able to come along as well.  National Parks are unfortunately an exception.
My other outdoor buddy is my son.  Sure I'm prejudice but what an awesome young man he's becoming.  Tall (just cracked 6') and strong and enjoys going out for hikes, camping, backpacking, and kayaking with Max and I; he's a real pleasure to have along.  When I'm just out for a hike with a MeetUp group he doesn't always come along, but he's out with me at least once a month sometimes more often.
Some of the activities we've ramped up to over the past year include:
Day hikes.  Typically one each weekend that's a good 5 miles or more;
Camping.  Love to camp, probably my #1 outdoor activity.  I try to go camping once a month but am not always able to maintain that schedule.  Car camping, backpacking, and now kayak camping.  It's all good.
Backpacking (see camping above).  I intend to get into backpacking more going forward.
Kayaking.  Bought some cheap ones July 2013 and wow what a fun way to spend some time.  Bought a new Perception Prodigy 13.5 'companion' kayak January 2014 so Max would have a more comfortable ride.  It's also large enough for kayak camping, which we did for the first time March 2014 (with my son & Max).  I expect 2014 will be the year of paddling for me.
My basic goal is to get outdoor often, and to take my game to the next level in all categories.  I'm not looking to be extreme and whatever I do I intend to be able to have my son and Max accompany me.
Gear Reviews (3)