MagOO1968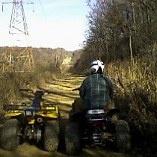 I am a:
52-year-old hiker
Location
: Medina, OH
Occupation:
Machinist
Activities
Hiking
Backpacking
Canoeing

Fishing
Quads

Vitals
| | |
| --- | --- |
| Height | 5'10" |
| Weight | 180 |
| Boot/Shoe Size | 9 1/2 |
| Jacket/Shirt Size | Large |
| Pant Size | 34-33 |
My very good and old friend Rob (azrhino) sent me a link to his Mormon Lake Trek. I was hooked. Made me realize how much i have missed going on hikes (Missions as we use to refer to them). Rob and I and a few others hiked the back country of Az since we were teen-agers. lol, could tell you some stories!
I don't have a favorite hike. i have favorite Hikes! Reavis ranch back in the day when the ranch house was still their. Four peaks before we got lost! The cave in the draw next to the canyon that takes you to Weavers Needle. Too much to list.
My goal is to get back out on the trail. Been on some day hikes with my daughter Zoe but nothing over night yet.
Forums
MagOO1968 has participated in 4 discussions. View all »