mahoosucmayhem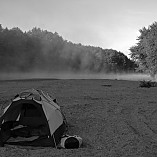 I am a:
42-year-old backpacker
Location
: OOB, ME
Occupation:
Small business owner
Activities
Hiking
Backpacking
Backcountry skiing
Canoeing

Kayaking
Fishing
Golf

Vitals
| | |
| --- | --- |
| Height | 6'1" |
| Weight | 190 |
| Torso Length | 20 |
| Boot/Shoe Size | 11D |
| Jacket/Shirt Size | 42L/L |
| Pant Size | 34/32 |
A Maine native, I was enormously active in the outdoors. Camping, hunting, fishing, skiing and backpacking were things I'd take for granted as a kid, and thought everyone explored the backcountry the way my buddies and I often did. I've hiked the White Mountains of New Hampshire, the Hundred Mile Wilderness in Maine, and the Mahoosuc range on the AT.  I've canoed the Alligash waterway, and skied almost every backcountry peak in New England that I could scale. My favorite trail is Corbett's Collier just north of Jackson, WY, and the northern face of Bigelow Mtn. in Maine. Ok, the headwall at Tuckerman's, on Mt. Washington needs mention as well. That all changed when I moved to South Carolina because of my career. I gave all my equipment to my younger brother, and figured that chapter in my life was over. Undoubtedly, I longed for the woods. Then one day I abandoned conventional cooking in my kitchen for camp style cooking in my own backyard! A true, backcountry meltdown if you will… Sitting under the stars, cooking over a campfire (and perhaps a little too much bourbon) convinced me to explore my backcountry options in SC. I wasn't about to quit my job and "go bamboo" but I may just do that as of late. I started it slow, hiking small day hikes in coastal SC and GA, slowly collecting gear, and looking up the trail systems in and around SC.  As it turns out, there are a lot of back-country adventures available to me in the Lowcountry, and a plethora of options upstate and in the Appalachians up the street.  
Gear Reviews (8)
Forums
mahoosucmayhem has started 12 forum threads (including 3 trip reports) and participated in 137 discussions. View all »