Micay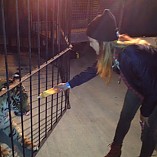 I am a:
38-year-old backpacker
Location
: California
Occupation:
P.A.
Activities
Hiking
Backpacking

Fishing

Vitals
| | |
| --- | --- |
| Height | 5'3" |
| Weight | 110 |
| Torso Length | XS |
| Boot/Shoe Size | 6W |
| Jacket/Shirt Size | S |
| Pant Size | 26 |
I grew up in Sydney, Australia. The outdoors are not they foreign to me. The house I grew up in was surrounded by bush. Bugs and critters were a constant element growing up. I was always fascinated with animals and had frequent visits from a Possum each night and Rosellas during the day. Naturally I was drawn to the outdoors as much as it was to me.
After High School and dropping out of College I travelled. Spain, Germany, Asia and I did it with a backpack and a skateboard. Crashed on couches, rode trains, ate uncommon foods...you name it.
I decided to moved to NYC and lived there for 5 years, I was over it. No greenery, not much sleep and I developed a bad drinking habit. 
Now I'm in LA and have a great group of friends we backpack and camp the wilderness, hills, mountains of California and look for a new adventure every week. 
My friend once said "there are no wrong turns on a road trip". 
Gear Reviews (7)