Mike Mineart
TOP 25 REVIEWER
REVIEW CORPS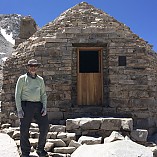 I am a:
hiker
Location
: Mill Creek, WA
Occupation:
Retired Engineering Manager
Website:
http://ct90restoration.blogspot.com
Affiliations: Member of Snohomish County Volunteer Search and Rescue and also the Everett Mountain Rescue Unit which is a founding member of the Mountain Rescue Association.
Activities
Hiking
Backpacking
Snowshoeing
Mountaineering

Rock climbing
Mountain biking
Fishing
Fly Fishing

Vitals
| | |
| --- | --- |
| Height | 5'11" |
| Weight | 195 |
| Torso Length | 20 |
| Boot/Shoe Size | 10 1/2 |
| Jacket/Shirt Size | Large |
| Pant Size | Large, 36 x32 |
I have been active in the outdoors since the late 70's when I grew up in the San Francisco Bay Area and started rock climbing and backpacking. I always enjoyed the time I spent in CA climbing at location like Lovers Leap, Pinnacles National Monument and Yosemite. In 1990 I  moved to just north of Seattle and have taken advantage of all the great outdoor activities that exist in the area.  I retired in 2015 which has enabled me to get out more hiking and fly fishing and I have also been doing section hikes of the JMT each summer. I have been involved with search and rescue in our area since the early 1990's and have found it very rewarding and would recommend others get involved if you have a local search and rescue organization in your area.
I am a mechanical engineer by trade and always have enjoyed working on cars and motorcycles.  While it is a little off the topic of this website, I have included a link to my blog where I have shared what I have been learning while I restore old Honda CT90's manufactured back in the late 60's and early 70's.
Gear Reviews (69)
Forums
Mike Mineart has started 11 forum threads (including 3 trip reports) and participated in 140 discussions. View all »