mike068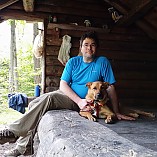 I am a:
54-year-old backpacker
Location
: Central, NY
Occupation:
Gear-fitter
Affiliations: I am a manager & gear-fitter at Eastern Mountain Sports. I also teach seminars in basic outdoor skills to private groups.
Activities
Hiking
Backpacking
Snowshoeing
Orienteering
Mountaineering

Geocacheing
Canoeing
Kayaking
Fishing
Anything Fun & Enjoyable ???

Vitals
| | |
| --- | --- |
| Height | 5'10" |
| Weight | 200lb |
| Torso Length | Average Build |
| Boot/Shoe Size | 10 1/2 Wide |
| Jacket/Shirt Size | Large |
| Pant Size | 36X32 |
I have been a "back-country / wilderness outdoors-men adventurer" since I was .. well as far back as I can remember ill say 35 + years and leave it at that. From family camping to father & son outings, Boy Scouts (as a scout and a leader), Hunting with my friends, camping & hiking with friends and on an on an on. I did take a sabbatical from the back-country for a few years but I have been back to it for several years, its like riding a bike. I am primarily a year-round backpacker, fair & un-fair weather why because I am a rain magnet LOL, I like to do backpacking the most but I guess that was a given huh. I like to and do take day hikes, regular camping. I have been many places not as many as I would have liked too but hay im still working on that. I have been primarily sticking to the North East but that is always subject to change at any time.
Gear Reviews (49)
Forums
mike068 has started 32 forum threads (including 1 trip report) and participated in 318 discussions. View all »