MikeyBob365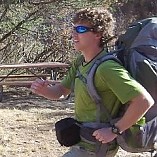 I am a:
27-year-old backpacker
Location
: Lubbock, TX
Occupation:
TTU Student
Activities
Hiking
Backpacking

Rock climbing
Fishing

Vitals
| | |
| --- | --- |
| Height | 5' 8" |
| Weight | 145 |
| Boot/Shoe Size | 9 |
| Jacket/Shirt Size | M/S |
| Pant Size | 32 |
I got into hiking, when I began fly-fishing, nothing more than day trips by myself... after a few years of that, my dad signed me up for a NOLS course. I enjoyed my first few days, but on day 4, my group walked down onto Dad's Lake in the WRR. It was the most incredible thing I've ever seen! We also had to do YDS Class 3&4 traveling down to reach our camp. It was really the spark of my love to get outdoors and "live simply."
Since then, I've began to rock climb, as well mountain bike.
I don't know what I want to be when I'm older, but I know I need to be close to mountains if not in them!
Wreck 'em Tech!
Forum Posts
| | |
| --- | --- |
| Plastic cup revenge | September 16, 2012 |
| Food sensitivities/allergies | September 6, 2012 |
| What do you eat on the trail | August 26, 2012 |
| viewpoints on indoor climbing space | August 4, 2012 |
| Kelty = Quality | August 8, 2012 |
| Waders - seal seem? | July 11, 2012 |
| Freeze Dried Dinners | June 22, 2012 |
| I can afford a better sleep system ? | July 2, 2012 |
| Papers! | July 2, 2012 |
| protecting your pack contents from water | June 28, 2012 |
| Socks for Trail Shoes | June 22, 2012 |
| Narrowing down your search | June 27, 2012 |
| Best tunes to hike to. | June 3, 2012 |
| DIY Bear Keg | June 24, 2012 |
| Gotta Prep for a Job! | June 18, 2012 |
| How to make fire from ice | February 18, 2012 |
| Do-it-all jacket | February 13, 2012 |
| Canon PowerShot D10 | January 19, 2012 |
| What's in your survival kit? | November 9, 2011 |
| Mini-Trangia and my pot to be? | December 24, 2011 |