MrsMustard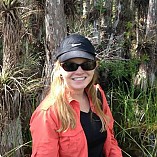 I am a:
35-year-old hiker
Location
: Plantation, FL
Occupation:
Biomedical Engineering Technician
Website:
http://toughterrain.blogspot.com/
Activities
Hiking
Backpacking

Canoeing
Kayaking

Vitals
| | |
| --- | --- |
| Height | 5'6'' |
| Weight | 140 |
| Boot/Shoe Size | 9 |
| Jacket/Shirt Size | S-M |
| Pant Size | 10 |
I am a south Florida native and have been active in the outdoors since I was very young.  I have been hiking since I was able to walk and have hiked in most states in the US.  I have done a few hundred miles of the Appalachian Trail.  Recently, I started hiking a lot more in south Florida.  I have learned to ignore the heat, mosquitos, and rain and just go out to Big Cypress, Everglades National Park, or Fakahatchee Strand to explore their wet hiking trails.  I have also paddled a number of rivers in Florida like the Suwanee, Santa Fe, Peace, and Loxahatchee rivers.  I also go on an annual trip out to the 10,000 Islands each winter.  I am also an activity leader for the Big Cypress chapter of the Florida Trail Association.
Gear Reviews (24)