mudsocks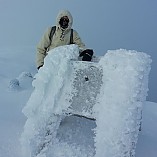 I am a:
backpacker
Location
: Maine
Affiliations: I have no professional relationships with any manufacturers or retailers, though I do have personal relationships with Dutchware Gear, Hammock Gear, Alpenglow Adventure Sports/Acadia Mountain Guides. These are small businesses that have provided gear and knowledge over the years that I have come to trust. If I review or product or service whether recommended by, given or purchased from one of the above mentioned professionals/retailers I will disclose this information.
Activities
Hiking
Backpacking
Snowshoeing
Trail running

Orienteering
Mountaineering
Ice climbing
Autocross/Solo II

Vitals
| | |
| --- | --- |
| Height | 5' 10" |
| Weight | 135 |
| Boot/Shoe Size | 10 |
| Jacket/Shirt Size | S/M |
| Pant Size | 30/32 |
A child of the 80's I grew up in rural midcoast Maine. I spent my time heavily steeped in the great outdoors and/or electronics.
Long Trail NOBO E2E 2014
Appalachian Trail SOBO 2015
Maine Appalachian Trail Maintainer
Pine Tree Search & Rescue
Working on my NH 48 4Ks
Ice climbing Neophyte
Gear Reviews (1)