muller_jim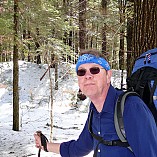 I am a:
66-year-old winter camper
Location
: Holland Patent, NY
Website:
http://www.WinterCampers.com
Activities
Hiking
Snowshoeing

Canoeing
Winter camping

Vitals
I have a bachelors degree in Geography (1975) from State University of NY, Oneonta, NY and a Masters Degree in Planning (1979) from University of Washington, Seattle, WA. I worked for NYS Wetlands Inventory, Schoharie County Land Use Planning Department, Lane Council of Governments, North Carolina Department of Natural Resources and Community Development, and Synectics Corporation. I served on Synectics Corporation Board of Directors from 1993-1996. I am currently a Senior Program Manager with Northrop Grumman working in R&D areas of information data handling.
Family: In August 2008 I celebrated 32 years of marriage. I have three adopted children; Ed (born 1976), Billie Jo (born 1980) and Eric (born 2003).
Personal Interests
Outdoor Activities. In HS I was introduced to competitive canoe racing, spelunking and rock climbing through an informal outing club. I have continued those interests and expanded to include winter camping. I have received certifications as a:
* Leave No Trace trainer (Green Mtn Club, Sept 2001) and Master Educator (ADK, Sept 2006)
* American Canoe Association Certified Paddling and Basic River Instructor for kayaks, solo and tandem canoes (ACA June, 2002)
* Wilderness First Aid (December 2003)
Winter Camping. I have been avidly winter camping since 1995 with an affiliation of friends and relatives known as www.wintercampers.com.
Gear Reviews (2)
Forum Posts