Mumblefords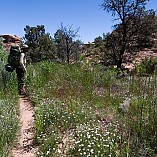 I am a:
backpacker
Location
: New Orleans, LA
Occupation:
Sales
Website:
http://monkeyhillmountain.blogspot.com/
Activities
Hiking
Backpacking
Snowshoeing
Trail running
Mountaineering
Canyoneering

Geocacheing
Canoeing
Kayaking
Mountain biking
Fishing

Vitals
| | |
| --- | --- |
| Height | 6'1" |
| Weight | 145 |
| Boot/Shoe Size | 11 |
| Jacket/Shirt Size | m |
| Pant Size | 32 |
My name is Mike G. Not to be confused with the other 300 mike G's on this site. I am happily employed with  an outfitter in New Orleans.
South Louisiana is not the ideal place to be a hiker but it does have great opportunity for kayak touring with endless miles of waterways.
I get the opportunity to go on a 3 day 2 night trip sometimes twice a month and try to take at least 2 major 10 day+ trips a year with a few 4-6 day trips along the way.
I am currently trying to amass an education in expedition skills (wilderness medicine, climbing instruction, avalanche rescue, crevasse rescue, raft guiding, swift-water rescue, back-country cooking, logistics) so I may try to solicit my services to Citizen Science groups.
Gear Reviews (1)
Forums
Mumblefords has started 18 forum threads (including 3 trip reports) and participated in 73 discussions. View all »