Old Eagle Scout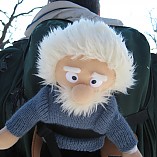 I am a:
61-year-old hiker
Location
: Palmerton, PA
Occupation:
Sales
Website:
http://n/a
Activities
Vitals
| | |
| --- | --- |
| Height | 5'11" |
| Weight | 177 |
| Torso Length | 20" |
| Boot/Shoe Size | 11 1/2-12 |
| Jacket/Shirt Size | M/L |
| Pant Size | 32x30 |
I'm now 51 years old, and enjoying the hell out of life! I've gone skydiving when I turned 40. Went scuba diving in Bora Bora a year and a half ago. And I'm getting back to what I've always loved to do: get outdoors.
My wife doesn't share my passion for the wild, but she tolerates my flights of fancy all the same. I do often go hiking or overnight backpacking with 4 lovely ladies: three of my sisters and one of my nieces. But, most of the time I'm solo. That's quite alright by me. I go at my own pace, don't have to wait for anyone, neither does anyone have to wait for me. If I feel like doing 15 miles in a day; I do 15 miles. If I feel like only 3 or 4, well then 3 or 4 miles is ok too!
I'll probably never get to hike the length of the AT, but I'm hoping to section hike the length of the trail in PA this year. That might be tough to fit in with what else I've got on plate, but I'll be happy just to lace 'em up, throw one of my Ospreys on my back and make a day or a weekend of it!
Gear Reviews (10)
Forum Posts
| | |
| --- | --- |
| Awesome new backpack design! | January 11, 2010 |
| FS: Slumberjack Everest Elite vintage down bag | December 11, 2009 |
| Recommend a new pack for me | December 1, 2009 |
| FS: backpack, tent, gps, sleeping bag | November 16, 2009 |
| I'm Looking for a 1 person/solo tent. | July 17, 2009 |
| FS: Mountain Hardwear Epic Jacket | April 15, 2009 |
| For Sale: The North Face Mountain Guide Aztec Blue Large | February 26, 2009 |
| Osprey Atmos 65 Pack | March 20, 2009 |