OutdoorKelly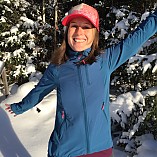 I am a:
hiker
Location
: Northern New England
Website:
http://www.lifeinthecabin.wordpress.com
Activities
Hiking
Backpacking
Snowshoeing
Trail running
Backcountry skiing

Kayaking
Mountain biking
Stand up paddle boarding
Yoga

Vitals
| | |
| --- | --- |
| Height | 5'4" |
| Weight | 120 lbs |
| Boot/Shoe Size | 8 |
| Jacket/Shirt Size | XS |
| Pant Size | 2-4 |
I live in a little cabin with my husband and two dogs, nestled into the mountains of northern New England. Our outdoor adventures range from stacking firewood to disappearing into the backcountry for days at a time. The mountains are my anchor. I hike their granite staircases, and snowshoe and backcountry ski along their winter manes of ice and snow. The mountains bring me pause. Every time. No matter how familiar the summit. 
When I'm not in the mountains, you can find me mountain biking, kayaking, and stand up paddleboarding. I've been practicing yoga since a knee injury in 2011, and became a yoga teacher in June of 2014. I love teaching and practicing yoga outdoors and hope someday to build a little yoga yurt on our property...perhaps host yoga and mountain retreats, or simply gather together with friends. 
When my body is not in motion, I'm writing. In addition to my Trailspace reviews, you can read about my adventures on and off the grid in the blog that my husband and I created: Life in the Cabin (http://lifeinthecabin.wordpress.com). See you out there :)
Gear Reviews (34)
Forums
OutdoorKelly has started 1 forum thread and participated in 40 discussions. View all »