Paul W.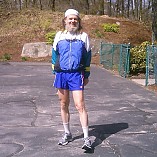 Full Name: Paul W.
60-year-old male hiker
Brunswick, ME
About
I take 10-14 two-night camping trips in the summer at my land in Pownal. I ride my mountain bike there, 15 miles each way. I'm not into mountain biking, though: As a matter of fact, I think of mountain bikers as a nuissance when I am walking along the trails.
I am into road biking and on sundays in summer, I do 60-milers, and 30 on wednesday. I run short distances (under 10M) every day, unless I am road biking, camping, or buisness consumes me. Especially fond of winter running.
Activities
Hiking
Fishing
Running

road biking
camping

Vitals
| | |
| --- | --- |
| Height | 5' 10" |
| Weight | 160 |
| Boot/Shoe Size | 9 |
| Jacket/Shirt Size | M |
| Pant Size | M |